This is a $3.00 old porch lantern I took apart; spray painted the metal with a bronze~brown: I wanted to experiment with metallic paint (on the inside of the glass) before using the very EXPENSIVE Krylon "looking glass" mirror paint~~it didn't turn out too bad~~
Here's the "before" lantern~~
The "stars" are etched into the glass and could not be removed~~but, will be appropriate for winter candles and Christmas!
I cleaned the glass first; then spritzed with water and immediately used the metallic spray paint; the idea is create the "mercury glass look" but, the metallic spray paint gives a frosted effect; still very pretty and "antique~y" looking~~
MIRROR PAINT: small can cost me $11.99
Thus~~why I was trying a "cheaper version" before using the mirror paint on a bigger project.
Below: look at these two, huge beauties (complete with dirt, dust and bird poop I noticed while sitting on my rug!)~~ they'll get a good scrubbing.
I'm going to tape off the beveled glass areas; paint the bronze~brown over the metal portions~~then use the EXPENSIVE mirror paint on the inside of the glass.
I'll do these next week and picture my progress!
Locally, it's hard to get the mirror paint~~our Walmart did not have it, neither did Home Depot, Ace Hardware, but I'm going to request the local stores to try and order it. Anyway~~
sending my lantern project over to these fun parties: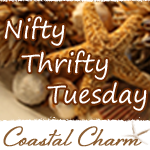 http://laurieannas.blogspot.com/